Nederland kent een rijke chemische historie, met veel bekende Nobelprijswinnaars en kwalitatief hoogstaand onderzoek. Veel locaties in Nederland hebben dan ook een bijzondere chemische geschiedenis. De Chemie Historische Groep en de KNCV willen belangrijk chemisch erfgoed op de kaart zetten en benoemen tot Chemical Landmark, oftewel Nationaal Chemisch Erfgoed. In 2018 heeft de Ovale Zaal in het Teylers Museum in Haarlem als eerste deze titel gekregen.
Voor 2019 zijn wij op zoek naar nieuwe historisch relevante nominaties. Helpt u mee? Nomineer dan een locatie die u van historisch belang acht. Dit kan tot 31 januari 2019 via de website van de Chemie Historische Groep van de KNCV. Lees meer…
Founded in 1924, the History of Science Society annual meetings have become the main annual conference in the history of science. So far, the meetings have always taken place in the USA or Canada, but in 2019 it will come to Europe for the first time. Please save the date: 23–27 July 2019 in Utrecht. Please note that the conference will be in the summer, rather than in November as usual. Lees meer…
This workshop explores the changing governance of medicine and the biomedical sciences in the second half of the twentieth century. In this period, the professional role of physicians and scientists in developed nations changed radically. Whereas up until the 1950s they had enjoyed a high degree of autonomy in deciding what type of interventions were permitted in their research and practice, they were increasingly called upon in the years thereafter to justify their conduct in formally arranged settings.
This change in governance was not limited to medicine and the biomedical sciences. In a wide variety of professional domains, the latter half of the twentieth century saw the rise of what anthropologists have termed 'a culture of accountability': the realization of oversight regimes designed to subject the performance of professionals to regular inspection and to oblige them to account for their activities in organized settings. Yet, in the governance of medicine and the biomedical sciences, this change has often been considered drastic and disruptive—an aberration from the old status quo that was believed to be historically without precedent and that experienced tensions with ideals of professional autonomy and scientific freedom in 'open societies'.
With a group of historians, science scholars and health care managers, this workshop takes stock of research into postwar governance of medicine and the biomedical sciences and intends to bring together a community of people who are keen on reflecting on the goals and limits of medicine and science and their position in late modern societies.
Programme
Thursday, June 21
9.30-10.00: Coffee & arrivals
Chair: Frank Huisman
10.00-10.45: Introductory lecture (Noortje Jacobs): 'Ethics by committee. Attempts at governing medical science in late modern democracies'
10.45-12.45: Reflections from the trenches
Margriet Schneider (Chair of the Board, UMC Utrecht): title tba
Wendy Reijmerink (ZonMW): 'Improving societal impact of health research: How to govern from a funders perspective'
Annelien Bredenoord (UMC Utrecht): title tba
12.45-14.00: lunch
14.00-16.00: Internal control
Laura Stark (Nashville, USA): 'Scientists as regulators: Consensus and the problem of authority in late modern ethics review'
Sara de Rijcke (CWTS Leiden): title tba
Ivan Flis (UU): 'Open Science as a reform movement'
16.00-16.30: Taking stock
17.00: Drinks
19:00 Conference dinner
Friday, June 22
(Kanunnikenzaal). Chair: Nancy Tomes
9.30-11.30: External control
Nancy Tomes (Stony Brook, USA): 'The patient as "watch bird": Patients' roles in the quest for "quality improvement" in the late 20th c. U.S.'
James Kennedy (UC Utrecht): title tba
Duncan Wilson (Manchester, UK): '"A single European market in ethical ideas": Towards a history of bioethics in the EEC and the EU'
11.30-12.10: Political dealings
Roland Bal (EUR): 'Layering the health care system: From professional dominance to organized professionalism'
12.10-13.30: Lunch
13.30-15.00: Political dealings (ctd)
Timo Bolt (EUR): 'A doctor's order: the Dutch case of evidence-based medicine'
Paul Atkinson (Liverpool, UK): 'New regimes of accountability in health services research: England since the 1990s'
15.00-15.30: Refreshments
15.30-16.00: Final discussion (Frank & Nancy)
Venue
Belle van Zuylenzaal, Academiegebouw, Domplein 29, 3512 JE  Utrecht
Admission and registration
The workshop is open to all those who are interested. Due to limited seating capacity, we kindly ask you to sign up to the workshop by sending an email to n.jacobs@erasmusmc.nl. Lunch will be provided.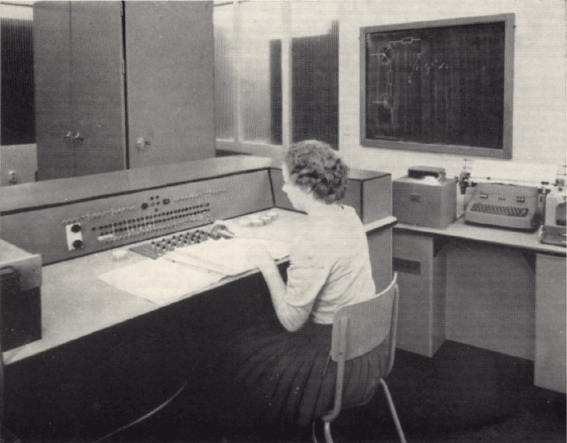 Op zaterdag 24 maart organiseert Rijksmuseum Boerhaave samen met de Universiteit van Amsterdam, het Centrum Wiskunde & Informatica (CWI) en de TU Eindhoven een publiekssymposium rond de geheel in Nederland ontwikkelde en gebouwde Electrologica X8 computer uit de jaren zestig. Lees meer…
Op vrijdag 2 februari vindt in Rijksmuseum Boerhaave de boekpresentatie plaats van Beelden zonder weerga: de elektronenmicroscoop van Ernst Ruska tot Ben Feringa, geschreven door Dirk van Delft en Ton van Helvoort. Voorafgaand organiseert het museum in samenwerking met uitgeverij Prometheus een begeleidend publiekssymposium. Onder de titel 'Beelden zonder weerga in mega en nano' gaan wetenschapsjournalist en publicist Govert Schilling en de Delftse hoogleraar elektronen-optica Pieter Kruit in op de intrigerende beeldenpracht die het diepe heelal en de atomaire wereld het oog te bieden hebben. Lees meer…
De Koninklijke Nederlandse Chemische Vereniging (KNCV) maakt zich niet enkel sterk voor het heden en de toekomst, maar ook voor de basis daarvan in het verleden. Hiervoor werken wij samen met de Chemie Historische Groep. Samen willen wij chemisch erfgoed daadwerkelijk op de kaart zetten. Lees meer…
Studium 10: 1 (2017) is uit! Alle artikelen zijn ook in open acces te lezen via de website:
Artikelen / Articles
De Doos van Pandora / Pandora's Boîte
Boekbesprekingen / Comptes rendus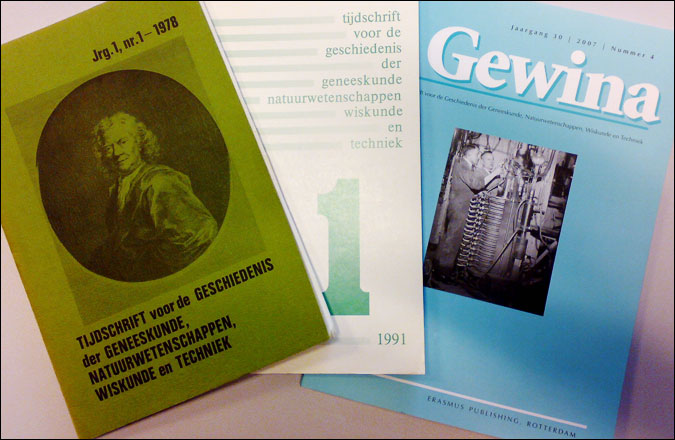 Wetenschapshistorisch tijdschrift Studium is in 2008 opgericht na de fusie van twee andere tijdschriften: het Nederlandse Gewina: Tijdschrift voor de Geschiedenis der Geneeskunde, Natuurwetenschappen, Wiskunde en Techniek (1978-2007) en het Belgische Scientiarum Historia: Tijdschrift voor de Geschiedenis van de Wetenschappen en de Geneeskunde (1959-2006). De digitale archieven van deze voorgangers zijn nu ontsloten in de Resources database van het Huygens ING (KNAW). Bijna 1400 artikelen – geschreven door professionele wetenschapshistorici en liefhebbers, meestal leden  van de genootschappen Gewina en Zuid-Gewina – zijn hier volledig door te bladeren, te downloaden en full text te doorzoeken. Lees meer…
Vanuit het Huygens ING wil de redactie van het DWC u als enigszins regelmatig lezer van onze berichten een vrolijke kerst en een gelukkig nieuwjaar toewensen. We staan voor een jaar waarin deze site nogal wat wijzigingen zal zien, waar we u uiteraard nog over zullen berichten. Maar blijf vooral berichten, aankondigingen, calls for papers en opiniërende stukken aan ons sturen. We gaan nu met vakantie; vanaf 10 januari wordt de dienstregeling weer hervat.
Met vriendelijke groet vanuit het DWC en de Afdeling Wetenschapsgeschiedenis van Huygens ING,
Ilja Nieuwland
Jan Bloemendal
Robin Buning
Charles van den Heuvel
Eric Jorink
Aafke van Oppenraay
Irene van Renswoude
Steven Surdél
Mariken Teeuwen
Huib Zuidervaart
In 2019 it will be fifty years ago that Jan Tinbergen received the Nobel Prize in Economics. At the initiative of Peter Cornelisse and Jan Pronk, ESE and EIPE will support a project to celebrate this event in 2019 with the publication of an intellectual biography of Tinbergen. The research is a joint ESE-EIPE project: The postdoc will have a position at the Erasmus School of Economics (ESE). Erasmus Institute for Philosophy and Economics (EIPE) will provide a proper working environment and facilities. This project will be scientifically supported by a committee consisting of Roger Backhouse (University of Birmingham and EIPE), Marcel Boumans (Utrecht University), Mary S. Morgan (LSE), and Jack Vromen (EIPE). Lees meer…